Lessons for aspiring session guitarists & beginners
Becoming a session guitarist is a life's work of mastering the instrument while keeping the passion for music unspoiled. Good teachers can take you far on that goal, save you time and effort and carry a part of the weight for you  – that's why I'm starting my own classes and offering 1 on 1 lessons for dedicated players.
A New "In-Person" Approach To Video Lessons
This total begginer short guitar course shot while teaching an actual beginner in person will teach you all you need to know and troubleshoot the common issues of your first month of playing guitar. 
Buzzing sound
Bad fingering
Wrong Posture
Fingers, Wrist, and Back Pain
Playing with a pick
Stuck while strumming
Differently from other courses, you will have instant feedback/solutions from my session with Beatrice (a beginner player) for all the issues you are most likely facing – exactly like having a teacher in the room.
Session Guitarist Techniques To Improve Guitar Solos
A Practical Guide to the 5 main Techniques, Tips, and Approaches to improve your soloing, Easy to Grasp and Immediately Applicable for Every Skill Level & Style. 
Whether you are a beginner guitar player still struggling to improvise or an Intermediate player that wants to hone his playing, this class is the guitar lesson for you.
This course requires only knowing a pentatonic box shape for some of these techniques & no specific knowledge for most of them.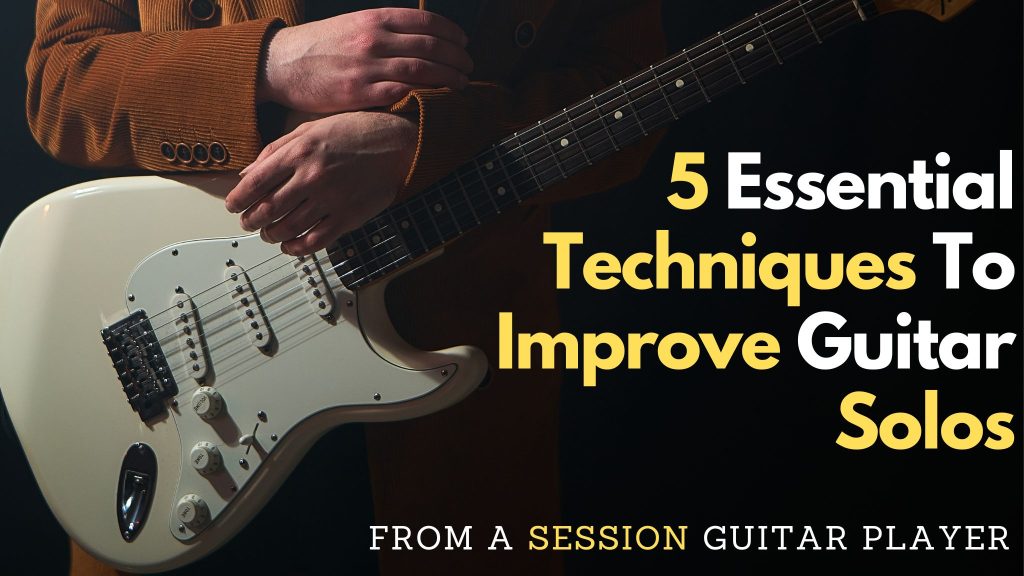 1 on 1 Zoom Lessons With Me
My Lessons will teach You Specifically What You Need, With a Practical Method Tailored to Your Level!
Whether you're a beginner or an intermediate player, I'll guide you to the next level of playing at an affordable price.
Rock/Funk/Blues Rhythm Guitar & Lead Guitar
Your Favorite Songs & Solos
Home- Studio Recording Lesson
Specific Techniques
Arranging guitar parts