Can you even imagine that in the future the busy recording studios and packed recording sessions could be a thing of the past?  Or just not barely as common as they are today!
Like every other aspect of the music industry  –  The future of recording studios, recording sessions, and the recording industry in total is online.
      The recorded music industry is shifting online at an accelerated pace.
Fundamentals of the music industry
To better understand the fundamentals of the music industry you should know that the music industry is in itself compromised by 3 different industries.
The Recorded Music Industry – responsible for creating and distributing musical material
Of the 3 components, the one that had the most gains up until the late 90s was the recorded music industry – which was supported by the physical sales of music. 
Nowadays the recorder hit after almost 20 years the same level of gains as in 2001 – that is thanks to streaming.
Global Music Recording Industry Revenues: 2001-2019 ($ Billion)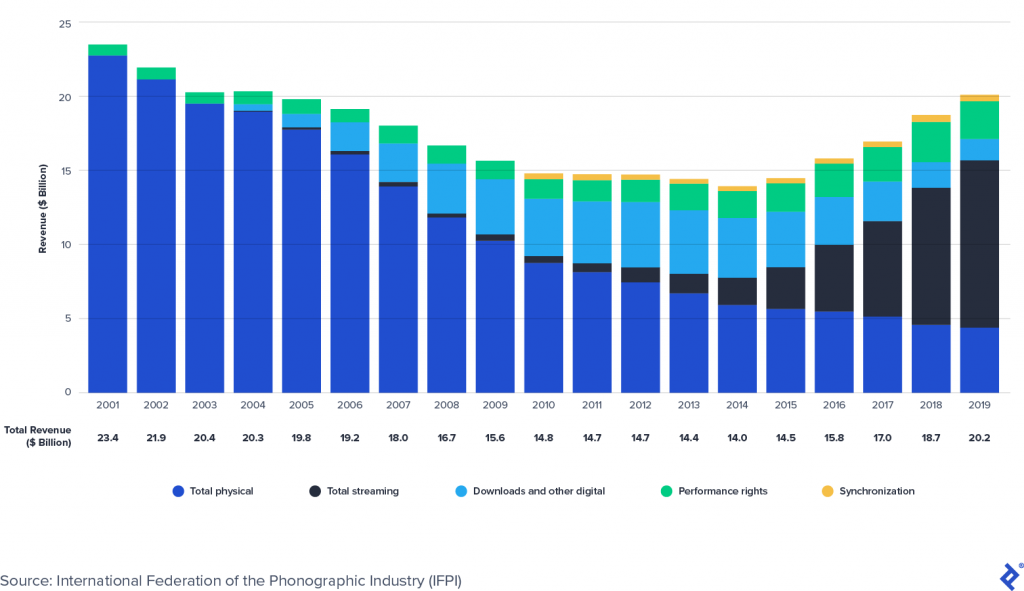 The Publishing Industry – responsible for licensing of music in various 3rd parties like movies, games, etc.
The publishing industry is the most consistent of the 3 and has always been the first one to adapt to new technologies like streaming and online video. Its steady growth is almost independent of the other 2.
Live Music Industry – responsible for all live music events, touring, etc.
The live music industry was not that big in gains and sometimes tours would be held at a loss just to promote the sale of physical albums that made up for the loss.  The live music industry is the sector that has seen the biggest growth in the digital era
In this article, I want to point why I think the recording branch of the industry is going online and how remote recording sessions are the future of the industry and the future of recording studios.
Technology has advanced faster than the recording industry adapted
To understand the future of recording studios. we have to understand the disruptive nature of technology in music. To mention a quote from one of my favorite articles on the topic
"This rapid transformation of the music industry is a classic example of how an innovation is able to disrupt an entire industry and make existing industry competencies obsolete."
During the 60s and 70s, there was major innovation – but there were few compared to today, and producers and engineers had the time to become masters of their technology. Most of the major innovations were based on the German, British, and US inventions of the World War 2 Era.
You can guess for what incredibly good Newman mics were used in Germany, and very good and small tape recording machines were used for in the UK and US at the time.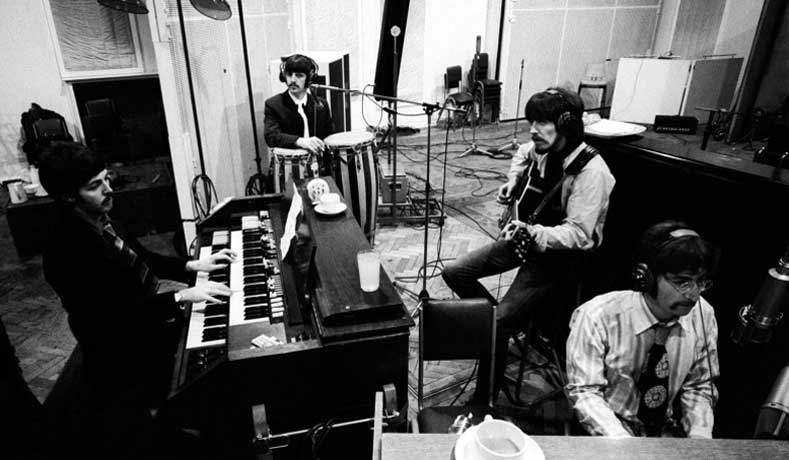 Today we have an overload of cheap technology that is so times misused and leads to poorly written music that sounds acceptable, due to the ready samples and online mastering.
Other than recording, distribution, and reproduction of musical material was based on physical copies. That allowed up intel the lasted 90S for the recording industry to be the highest-grossing of the 3 branches of the music industry – this also allowed artists to have a fair share on each album sale.
What is happening now in the recording industry?
After the Napster disruption and many other downloads and streaming platforms to follow the recording industry has had to adapt to the technology – but did so at a very slow pace. Today we are facing the inequality of recourse situation in the music industry, where the 3 major players – the labels and corporates, streaming services, and artists are not rewarded properly.
The good news is the recording industry is it highest since the late 90S
Due to all the above reasons, it's normal that to cut costs new solution have to be found for recording songs that need real instruments.
For an independent artist living in a developed country, assuming there is a 1000$ budget for a song – it's unlikely to have it recorded in a big studio and 4-5 hired session players and engineers.
The only solution left for independent artists to have a professional sounding song is to hire remote musicians, which do deliver high-quality work for less cost and cut studio time expenses to 0.
           "Hiring remote musicians is making the technology work for us"
Less money is going in the recording industry every year
Myself, being a remote session guitar player, I face the harsh reality of recording sessions every day. People are paying less each year to record songs and since they are not gaining much from them, what is left is to try a be a "nice" guy and work for what you get paid.
The future of recording studios is highly dependent on the buying force of the artist community – if artists can't afford studios then it's normal they will start to disappear or find new ways to operate.
Check out this video from Tim Pierce discussing this topic as always in a very interesting manner.
The remote recording session is the future of the recording industry because:
Streaming does in no way make enough money for independent artists
The lack of recourses must translate into lower quality or lower cost of recording.
Check out Jack Stratton of Vulfpeck for some good laughs but also for a disturbing fact about the streaming industry and artists.
The pandemic has plundered the live music industry
For the small artist, live shows are the only way of making enough money to make a living or at least promote their music. With almost 1 year from the last live show, budgets are tight and musicians are striving to make a living from home.
Recording studios are still very expensive
Whether you live in the US or in my small Albania, recording studios are expensive to rent and musicians are expensive too. Along with the hourly rate you have to cover all the travel expenses and probably engineers fees.
Remote session eliminates the need for studio time and cut the costs of recording a song up to 50%
The pandemic had Its way to accelerating the process
From global statistics, the start of the pandemic lowered the number of global streams, dues to the fact that people were focused on other forms of entertainment (gaming, movies, etc). Now the numbers luckily have gone up again – but that is not enough to cancel out its effects.
Other than the apparent damage to the live music industry the Coved – 19 effect showed us that yes, songs can be recorded online or with a combination of online and on the studio activity.
CHECK OUT – 6 Reasons to Hire Remote Session Musicians
I'm not saying that is necessarily a good thing. Music is supposed to be all about exchanging emotion and feeling, and you can't do that online like in person. Even the thought of comparing the feeling of playing on stage or in the studio with 4 other people to myself on short which a backing track is sad.
The start of the pandemic saw for me personally a surge of orders from musicians and from non-musicians. People who worked other jobs but had their dream in the closet of recording their song with no time to do so normally. Loads of layers and real estate agents with some songs they had written back in college came to me with a request for guitar tracks and full production.
That all being said what the pandemic did was mostly accelerate what was already a started process for many industries and also brought us good stuff like the Corona Lessons from the legendary session guitarist Tom Bukovac
Developing Countries are starting to compete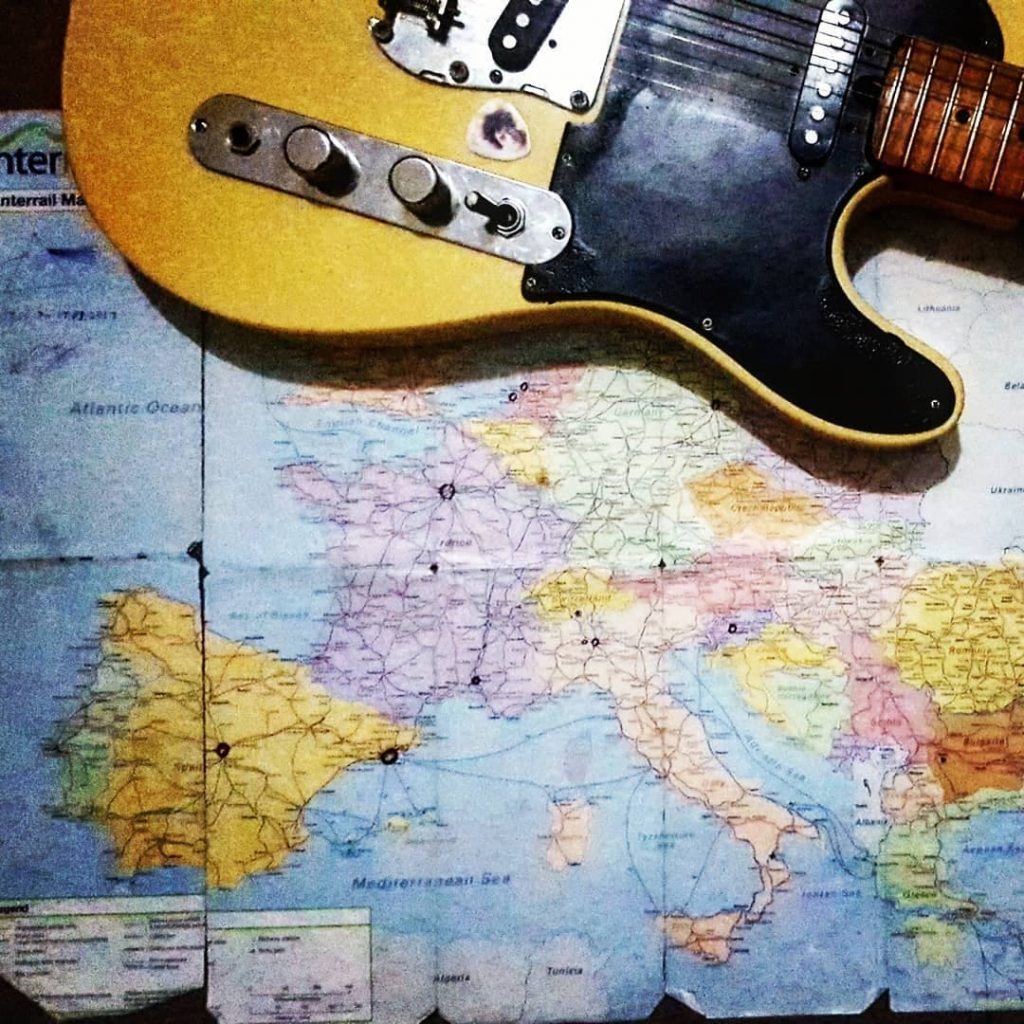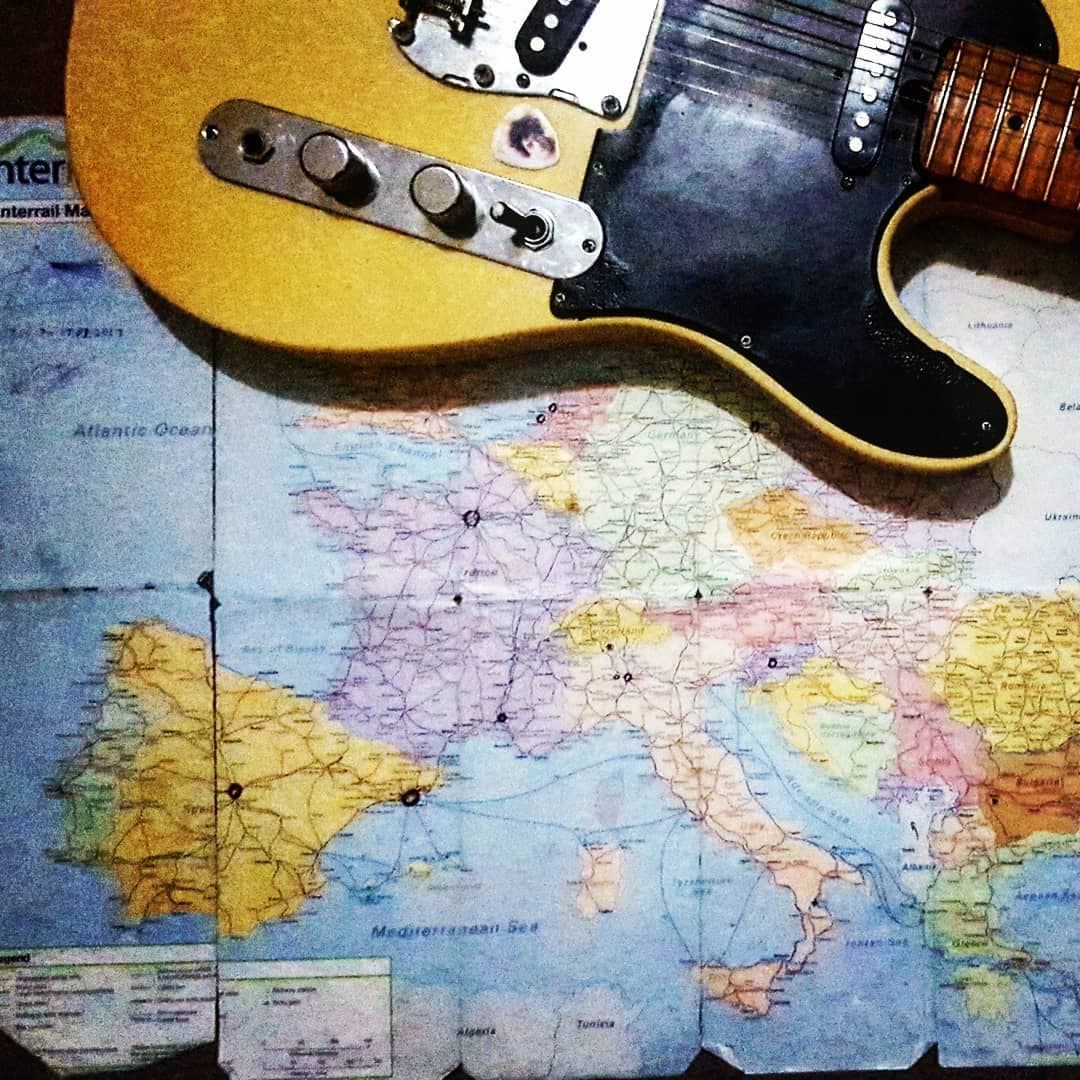 Like me, there are many session players in developing countries that can serve your song and add value to the recording industry. The lack of a proper recording industry and expensive recording sessions makes it necessary for us to find other mediums to work with.
The lack of buying power from local artists makes the future of recording studios. very unsafe! It's more likely that good international marketing will get you more gains than a high-end studio for local artists.
You would be surprised if you live in a developed country of how differently music is recorded. And by that I mean the process – people cannot afford to spend much and therefore session players cannot be played much.
CHECK OUT – Pros and Cons of Hiring an Online Session Guitarist
On the other hand, remote musicians from developed countries offer lower fees and guarantee the same quality of the recording.
Have a look at my story to find out how a marketing student from Tirana became a remote session guitarist.
How much to pay for a remote recording session?
The low cost of living in developing countries does not mean that the price is extremely discounted. Don't be like some people who misunderstand fiver & request an orchestral arrangement for 15$ and in 2 days' time.
You can save A LOT while still having top session players work remotely on your song. But still, top session players have an average global standard to mandating.
The downside to this is that prices might go lower in the future globally for remote sessions and the local studio might be a thing of the past in smaller countries.
CHECK OUT – To know how much you have to pay for a remote guitar track-  have a look at my article on how much do remote session guitarists cost
Final words
To recap the meaning behind the article – In no way do I mean that the recording studio will disappear or recording sessions will all be online.
I'm saying that there will be a natural shift to remote recording session since the recording industry has not found a solution to properly compensate indecent artists & small labels – low cost and high quality of remote recording session is a natural choice.
Check out my work and music and have a look at my story to learn the journey of a remote session guitarist.
This error message is only visible to WordPress admins
Error: API requests are being delayed for this account. New posts will not be retrieved.
Log in as an administrator and view the Instagram Feed settings page for more details.