My double life as a working remote session guitarist and digital marketer has taught me an interesting set of skills and benefits that benefit both my Batman and Bruce Wayne. With that experience behind me – I will teach you how to build a musician website.
The today recording industry has evolved, and for the better or for the worse recording session are now going online – that leaves with a learning curve of some digital skills that all modern working musicians/ music producers should know, or at least learn to tell the difference between a good a bad website.
– Basics of marketing for music producers/working musicians
The most important lesson in marketing – Start with why?  What's your goal? Do you want people to listen to your music or do you want people to order directly from your site? Why do you need to know how to build a musician website?
After clearing that up I will continue with the basis that you want people to check out your music skills for them to order from you.
After laying out your goals the next step is to clear up who is your audience? Who do you think will be the one searching for example for online guitar tracks and then enter your site to order?
RELATED – The Future of Recording Studios is Online
In today's session musician world, I would suggest the aim of independent artists and small labels as your main target and not random music listeners and music lovers.
Mend your words to the audience but don't get too specific on the details. People generally do not want to hear a lot about the gear u use, pedals or guitars – they just need to know they are high end and you will get high-quality tracks.
– Use your own voice but treat yourself like a brand
This is very important! You are not just a random musician that plays well. You add value to people's songs and that Is a process where value and money are exchanged. Think of why you buy your favorite brands and gives you the SAFETY to buy from them.
Remember that being "safe" and trustworthy are your goals as all online business or remote collaborations.
RELATED – Pros & Cons of Hiring an Online Session Guitarist
So when you think about how to build a musician website – start first with your why and what people would expect to find in it.
– Start out with the menu
If you want to learn how to build a musician website, then start out with the menu.
The menu is the "hook" of your website – people will refer to that all the time and expect to hear (see in this case) certain things. It is also the basics of your musician website structure. If you want to build a musician website, especially working musicians/music producers then include:
Your contact
Information about you
You demo work/credits/artists
Your blog (it's very important)
Bookings & Sessions (hire me section)
Some of the sections above can be combined, for example, information about with credits – but Producers and Artists need to know you deliver on time and offer revisions. They need to know some specifics but not too much as they might get confused.
– Include your story as a musician
Music connects, and musicians connect to other musicians. My suggestion is to keep the discussion in terms that benefit the users – meaning that It's fine to tell when you got your first guitar or your first remote recording session, but you should tell the story in a way that makes them understand you will make a great choice for the song!
In my story which you can check out here, I mention the years I have played and the number of sessions and

It's important to tell in your story which genres you are more prone to and your musical idols, people will relate to that, believe me! I have had tons of work on sessions just because I am a huge Pink Floyd/David Gilmour fan.
– Do not include much info on gear you use
Please don't do this! I read all the time session players and mixing/mastering engineer's profiles that have more pedal and rack names than songs or credits. It's enough to showcase that you have some brand of gear that is well known in the industry and how pictures/videos of you using them.
The goal is to learn how to build a musician website – gear websites already have all the info on them!
Most people do not understand (even producer) what a variac on a diesel vh4 that runs through an orange cabinet does
I do myself include some brand logos and mention that I use the latest plugins, high-end guitars, and analog rigs with a miced cabinet – but that's it!
– Include parts of tracks you played/produced and link back to artists
Do not include the full songs you played on! Only if the context of the music requires it.
This way you show what you really want to show on a song, being that a solo, vocal part, etc.
Always link back to the artists and mention their name and artwork in the credits section if you can. Have people click and go the artist's song link on YouTube or his/her website.  
RELATED – How Much Does it Cost To Hire an Online Session Guitarist?
Also, I would suggest making different categories for groups that matter to the users – for example, I divide my demos by naming them from their genre and type of playing (lead or rhythm, acoustic, electric, etc)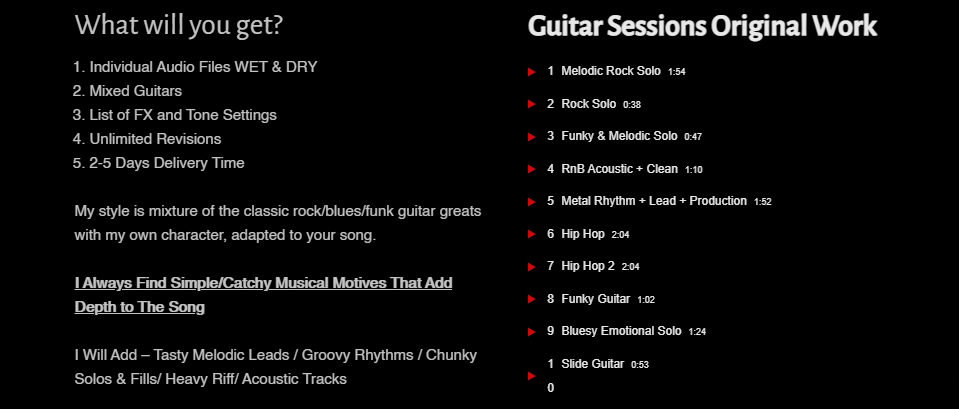 – Include reviews from artists
Think of an Amazon product page. Before you buy you always go to the comment section and read the review on the product, the same is for every activity where money is involved.
People need to know that someone else used your services as a remote session musician or music producer before ordering from you.
RELATED – 6 Reasons To Hire Remote Session Players
This is also a major reason why online marketplaces like Fiverr and Airgigs are popular. You can compare what people say about musicians and end up picking the one with the nicest comments!
Choose wisely the comments on your site and always link back to the reviewer's website – aim for labels, producers, and independent artists that have some online presence. If they are famous then that's awesome for you!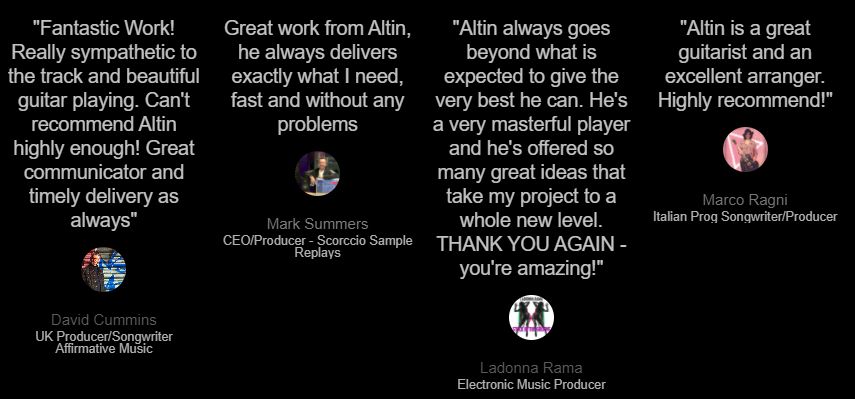 – Include your BIO paragraph as a musician
Think of this as an Instagram bio, but a bit more professional and leaving out the penny stickers with backpacks and kitties.
Here you have to say briefly in 100 so character who you are and what you do best. In my case, my BIO Is the starting of my first section.
"I'm Altin – Online Session Guitar Player & Arranger devoted to the cause of serving the song and adding depth and emotion to your music – with my playing. "
This should be including some keywords (more below on this one)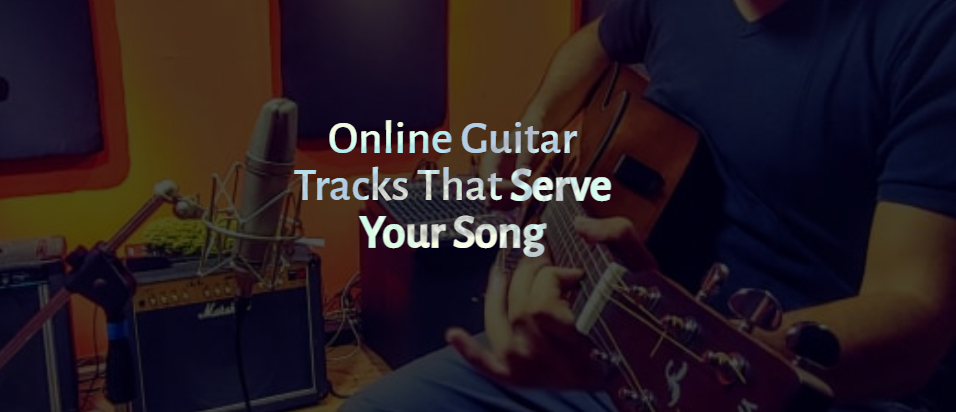 – Include calls to action
That means always lead users to a button or link where they can contact you or book you. Do this often. At least 3 times on the homepage and at least once on all the other pages.
Remember that when you build your musician website, if you are offering services – the goal is to have people order.
It is up to you to tell them how to do it.

                   Really though – Have a Free Consulting on your project Here
– Link your social profiles/YouTube Channel
This is of course a no brainier – Link your videos to your YouTube and bring traffic back and forth to your Channel and vice versa.
I use a very cool plugin for WordPress called Instagram feed that shows a visual grid of my profile. Since I upload most of my work on Instagram that's perfect for me. I show all my work and probably gain a high-value follower to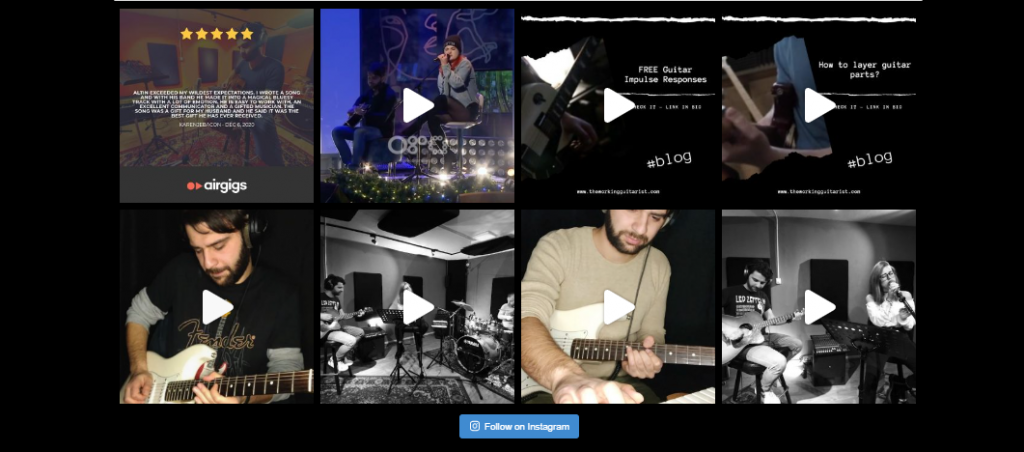 – Offer up free extra stuff
This is a method used by most online businesses.  You get something, but in return, you should leave your contact or open an account.
In your case, you can offer up free counseling on projects as I do.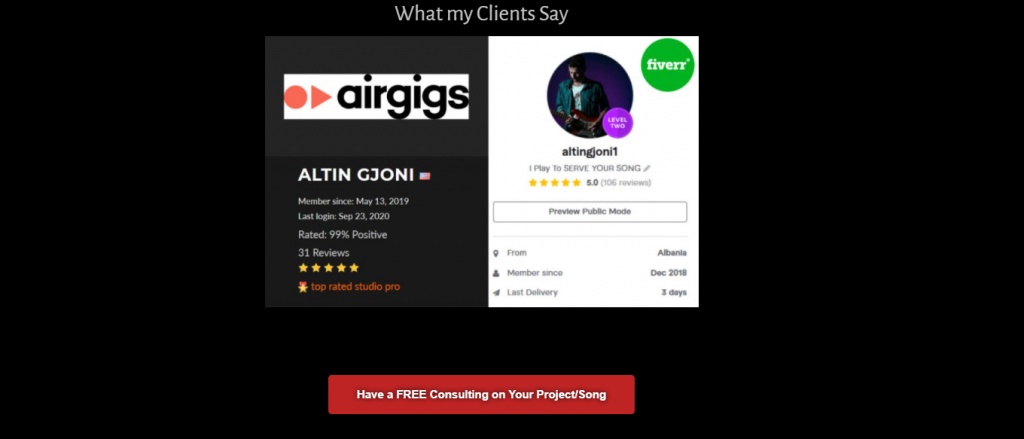 Other hooks you can use to grab contact or engage in a conversation a
Loops for download
Backing tracks
Lessons
Industry insight
How to's ….
There are many other things, you can check out any major guitar YouTuber and learn from them on offering free stuff
– How to get visitors to your musician website?
Now that you have your new session musician/producer/studio website the next challenge is – how to get visitors?
In this article, I will mention some ways to do it and then elaborate on a dedicated article
Social media sharing
Blog post
Linking to YouTube, Patreon, etc.
Linking to social media
Having fans/friends/colleagues share it
Proper website SEO
Consistent blog/content posts
Emailing your contact
Giving away free stuff on your website and promote it through YouTube, email, social, etc.
– Your blog is important to promote your website
If you want to rank your site on google and stand out when people need remote musicians, you have to work on your page SEO.
In simple terms you should build your site to be SEO friendly, periodically write articles, post, and link videos, update your content to match what your target group of buyers/audience are searching for online.
An example of that is my article here How much does it cost to hire an online Session Guitarist?
Here I target people who are interested in hiring a remote session guitarist but don't know the price for one.
I'm not saying to start your blog if you do not want to or have other priorities, but if you have spare time, or if you have anyone else doing it for you, it's best to know the best practices.
CHECK OUT HOW I ARRANGE MY BLOG HERE
– Search Keywords for musician websites
If you want to build a musician's website that people visit  – you have to use the right keywords for Google.
On my occasion, producers and artists search for different keywords like – session guitar player, remote session guitarist, hire guitarist online, etc.  What I do is find these words based on Google search suggestions and build up your page/articles – that are useful to the people using these keywords.
RELATED – How to Record a Song Online?
There are way better videos and articles to learn more about this stuff. My only advice would be to start doing and learn from your fails. As a musician yourself – you know better than me that there is no way around mistakes, unfortunately.
Final words on how to build a musician website
My best advice would be to pick a WordPress theme without thinking too much about it and start right away with building your musician website. Now you know what to include in a musician website and all you need is practice.
Many of you might hire developers to do it – that's great! but it will cost a bit and you have to make sure you do know how to manage your site yourself
Check out my site here if you need some inspiration and my story to find out how I became a remote session guitarist.
–